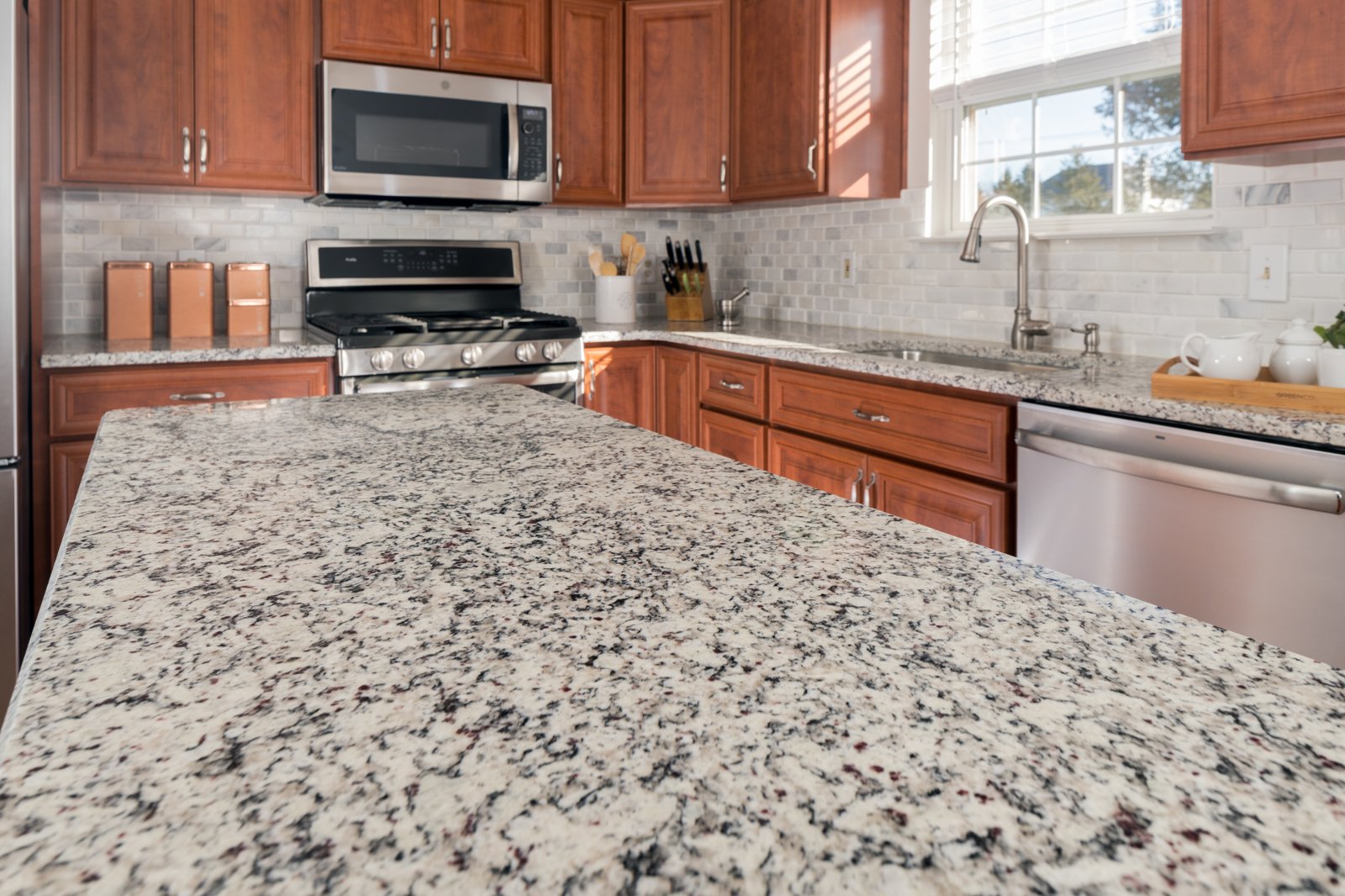 When you need a new kitchen or bath countertop for your Perrysburg home renovation, you may not have found a piece of granite or quartz that gets you excited. At The Countertop Shop, we also offer a wide range of other quality choices. We are always happy to answer any questions about any slab or sample that catches your eye in our showroom.
Marble: Elegance, Subtle Sheen, and a Lustrous Glow
Known for its timeless beauty, marble is a natural stone that usually has an off-white or light gray base color and can include subtle or bold veining. It is a softer stone compared to granite or quartz and will develop a rich patina as it ages.
Soapstone: Dark, Dramatic, and the Hardest Stone
The toughest stone available for kitchen counters, soapstone often features rich tones of black and bronze while large inclusions lend it a unique personality.
Solid Surface: Explore Colors, Patterns, and Eco-friendly Choices
While quartz is a man-made stone, it generally has looks similar to natural granite or marble. Solid surface countertops switch things up and can include bright flecks of colored recycled glass, solid bright hues, and geometric patterns.
Compact Surface: A Unique Option for Your Contemporary Home
Ultra-compact surfaces are gaining in popularity. They have impressive durability in a thinner surface that complements modern design trends.
Laminate: Budget Friendly Boasting Endless Options
Today's laminate countertops are nothing like the ones found in grandma's old house. Find one that looks like popular granite and quartz when you scroll through hundreds of available colors and patterns. It's a fabulous option for your summer cottage or rental property.
Visit The Countertop Shop To See All Our Dazzling Countertops In Person
The best way to find the perfect surface for your countertop design is to spend some time in our showroom. Whether you decide on marble, quartz, or granite countertops is entirely up to you! Located just down the street from Downtown Toledo, we are open six days a week for your convenience.