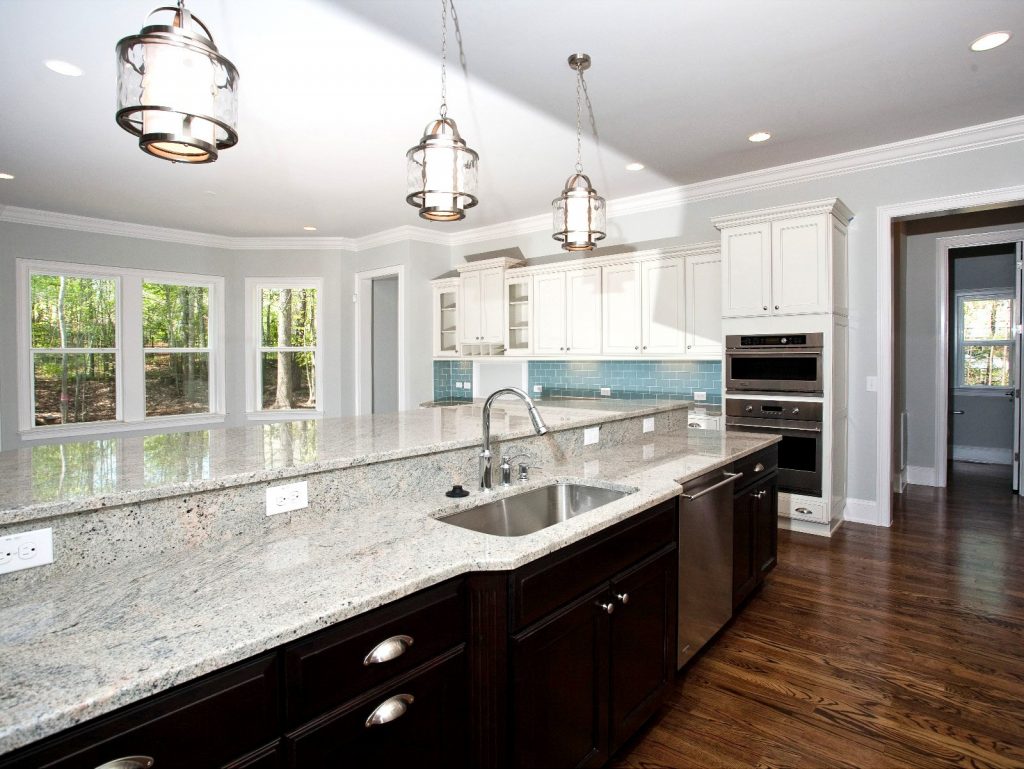 You are in the process of choosing the countertops for your dream home on the beaches of Morehead City. Your friends sing the praises of both their granite and quartz counters. Is one better than the other? Not necessarily.
Are Granite and Quartz Made Out of the Same Material?
Both granite and quartz countertops are extremely popular among homeowners and can look very similar, but they are not the same product. Granite is a natural stone and quartz is a composite that uses stone dust and aggregate to create beautiful countertops.
Both surfaces can last 20 years or longer, resist scratches, and will add value to your property.
Quartz: A Man-made Stone Crafted for Durability and Stunning Appearance
You will find quartz samples right next to granite displays in your kitchen design center. Quartz counters can be manufactured to look almost like marble, quartzite, or granite. Colors and veining are added at the factory in non-repeating patterns. The result is unique slabs of man-made stone that will have a more consistent coloring compared to real stone.
Quartz is just as hard as granite and some quartzite, so it equally resists scratches, stains, chips, and cracks. It is a fabulous choice if you are building a huge kitchen with an open-living concept and need multiple slabs for your island and back counters.
Granite: Carved Straight from the Mountainside
Today's granite countertops come in an unexpected array of colors as you can find stones that come from around the world. Granite is cut in giant blocks from exposed mountain faces and then sliced into sections sold as slabs for countertops. Color choices included traditional speckled gray, pink, rust, blue, and even green. Because it is a natural product, no two slabs will look exactly alike. Which means your kitchen will have its own personality.
Granite remains popular with homeowners and builders as it retains its like-new looks and value for decades. Potential home buyers always ask if the kitchen has granite countertops.
Granite uses no toxic chemicals during its manufacturing process and can be sealed for easier sanitizing.
Selecting the Perfect Countertop for Your Morehead City Property: It's All About Your Preferences
Basically, there is no right or wrong when deciding if you want granite or quartz countertops. The same fabrication and installation techniques are used for both, and they are generally similar in price.
Your decision should be all about the looks. Since both types of surfaces are offered in a wide range of colors and textures, there will be one that will grab your attention. When shopping for your counter, never base your decision on an online sample. Instead, gather your cabinet, flooring, lighting, paint, and tile samples and head to a countertop showroom. There, you will be able to experience the full impact and make a choice based on your personal experience.
Visit Onslow Stoneworks in Morehead City to Select Your Kitchen Countertops
Fortunately, you will find a local full-service showroom right here in town. Onslow Stoneworks handles every aspect of your countertop buying experience starting with knowledgeable sales associates ready to help you find the best countertops for your home improvement project.
Whether you decide on granite or quartz, they offer a huge selection of slabs and samples and will handle fabrication and installation, too. You can find them right on Highway 70 in Morehead City. Give them a ring to schedule your personal tour of available stone slabs.